Kit SQ1 Steam Quality Test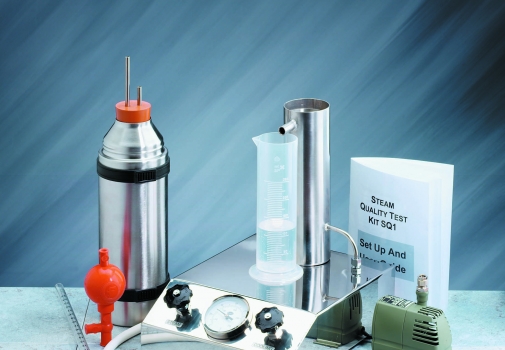 KIT SQ1 STEAM QUALITY TEST
In order to ensure that steam is an effective agent in the sterilization process, European standards EN 285 and HTM 2010 recommend that quality tests of the physical characteristics of the steam be carried out at least once a year or in the event of repairs that may affect process performance.
Steam quality tests have been implemented on a large scale by the most important pharmaceutical industries in the world, including the main multinationals installed in Brazil. In the hospital area, the NBR 11134 standard recommends that steam quality tests be applied in all sterilization processes.
Developed according to the methodology of the European standard EN 285, the SQ1 Kit has specific components for the analysis of each of the characteristics of the steam – title, non-condensable gases and superheated steam – simplifying the process and guaranteeing the repeatability of results.
Manufacturer: KSA
STEQ IS THE ONLY COMPANY IN BRAZIL AUTHORIZED AND CERTIFIED BY KSA TO PROVIDE TECHNICAL SUPPORT AND SUPPLY ORIGINAL PARTS FOR THE WHOLE LINE OF EQUIPMENT.
DOWNLOAD THE PRODUCT CATALOG: